If your Outlook 2016 / 2013 hangs up when loading mail profile or receiving or sending e-mails, I offer a few tips in this article that will help you to fix this problem.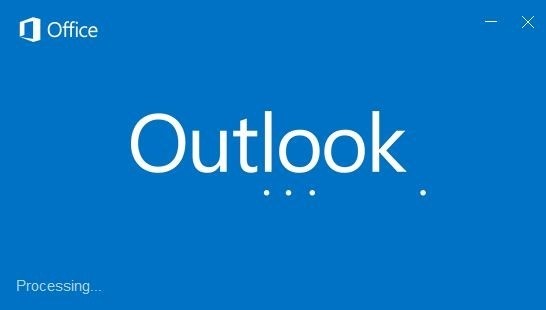 Run Outlook in the Safe Mode and disable Add-Ins
First of all, it is recommended to start Outlook in the Safe mode:
outlook /safe.
In this mode, Outlook is loaded with plugins and extensions disabled.
If there are no problems in the safe mode, it is recommended to disable additional modules one at a time (Options -> Add-Ins -> COM Add-ins -> Go).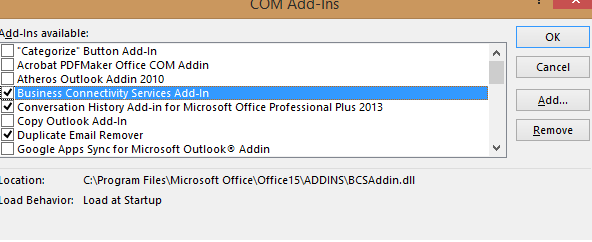 Disable hardware acceleration
Hardware graphics acceleration feature appeared in Office 2013. It is designed to improve the appearance, responsiveness and smoothness, as well as windows scaling in Office applications. By default, hardware graphics acceleration is enabled in Office 2013 / 2016, however sometimes it can have a reverse effect — Office applications (including Outlook) can hang when rendering windows with contents. As a rule these problems occur on computers with older or integrated graphic cards, when there are 2 or more GPU, or outdated video drivers are used.
In this case, it is recommended to disable hardware acceleration in MS Office. To do it, check the following in Outlook settings: Disable hardware graphics acceleration (Options-> Advanced -> Display)
Save the changes and close all Office applications
Tip. The hardware acceleration mode is applied immediately for all MS Office applications.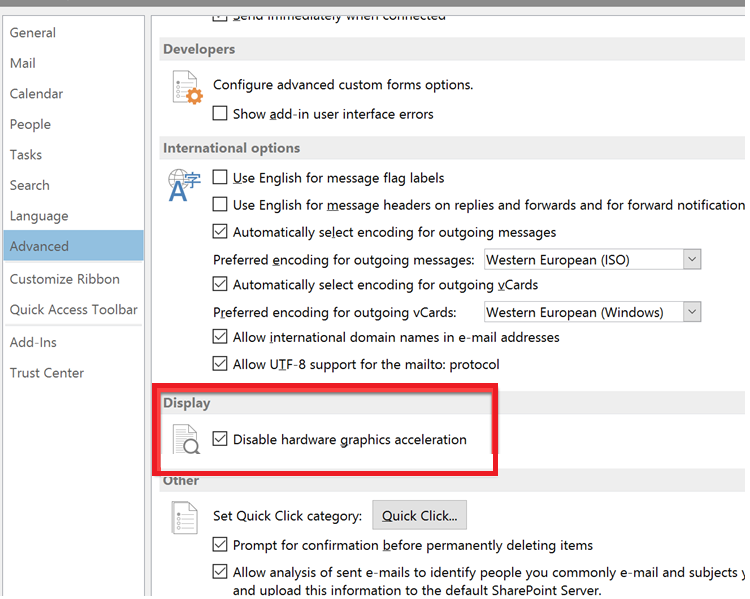 You can disable hardware acceleration using the registry as well. Just create a DWORD parameter DisableHardwareAcceleration with the value 1 in the following registry branch:
For Office 2013 — HKEY_CURRENT_USER\Software\Microsoft\Office\15.0\Common\Graphics
For Office 2016 — HKEY_CURRENT_USER\Software\Microsoft\Office\16.0\Common\Graphics
You can deploy this registry change to multiple domain computers using GPO.

PST and OST file size
Check the size of PST and OST files on your computer. If it exceeds 10-20 GB, there can be Outlook performance problems. It is not recommended to exceed these values.
Check PST file integrity with Scanpst.exe
Low Outlook performance may be a result of PST/OST file integrity or structural issues. It is recommended to check these files and repair any errors using the built-in tool — scanpst.exe (Inbox Repair Tool).
Recreate Outlook profile
If the methods described above did not help, remove the e-mail configuration profile in Outlook and create it again, or completely reinstall MS Office.