There is a 20 MB limit on the maximum attachment size in Outlook mail client (including the latest 2010 / 2013 versions). It doesn't matter if a single large file or several small ones are attached — the total attachment size would not exceed 20 MB.
When trying to send a letter of more than 20 MB using Outlook, the following error message appears:
The attachment size exceeds the allowable limit.

If your mail server and the recipient's server supports a larger size of message attachments, you can increase this limit in Outlook.
You can the maximum size of attachments in Outlook only through the registry. There is no such setting in the Outlook GUI.
Close Outlook and open the Registry Editor (regedit.exe)
Depending on the Outlook version, go to:
In this branch  find and edit MaximumAttachmentSize value, specifying the new attachment limit, e.g., 102400 (100 MB). By default, it is 20 MB (20480 KB). To completely disable the limit, change this value to 0.

Note. If there is no MaximumAttachmentSize key in this section, create it manually: New -> DWORD (32-bit)Value  

Close the Registry Editor and restart Microsoft Outlook
After the changes are made, you can attach larger files to your letters in Outlook (in our example, we have attached a 58 MB PST file).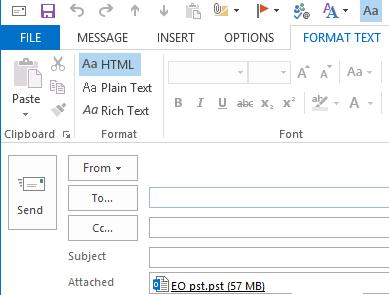 If your mail server or the recipient mail server do not support letters of a larger size, when trying to send a large email message, you will get an NDR (Non delivery report) with the information that the maximum attachment size has been exceeded. Here are sample messages you can get:
Attachment size exceeds the allowable limit
552: Message size exceeds maximum permitted
System Undeliverable, message size exceeds outgoing message size limit
The message was not sent; reduce the message size and try again
The following table contains the maximum  attachment sizes in the most popular email services:
| | |
| --- | --- |
| Mail service | Maximum message size |
| Gmail | 25 Mb |
| Google Apps | 20 Mb (50 Mb for premier ) |
| Microsoft Exchange Online (Office 365) | 25 Mb |
| Yahoo/ AOL | 25 Mb |