If you face any troubles when searching for e-mails items in different Outlook versions: nothing is found, not all results are displayed, not all PST files are scanned, etc., the recommendations of this article should help you to solve search problem. (These recommendations are applicable to Outlook 2016, 2013 and 2010)
How to Check Indexing Status in Outlook
The ability to search for Outlook items is provided by building and maintaining an index of all available mail items. Therefore, first of all, you need to check the status of this index itself.
To do it, go to the Search tab, and select Indexing Status in the Search Tools section.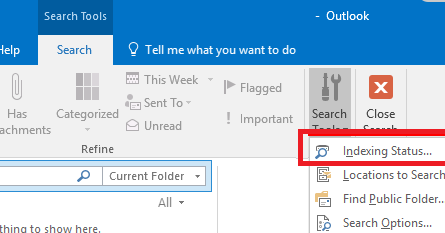 If the indexing is OK, you will see the following status in the next window:
Outlook has finished indexing all of your items.
0 items remaining to be indexed.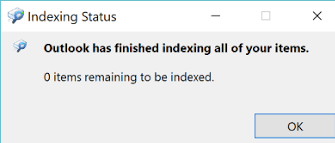 However, if there are any search problems, the status will be different:
Outlook is currently indexing your items.
23817 items remains to be indexed

Reindexing can be performed when you add a new mailbox or an Outlook Personal Folder (PST) file, moving e-mails, etc. If you have recently (up to 3-4 hours) performed these operations, please, wait till the indexing is over. If you haven't changed the configuration for a long time, and the indexing is still going on, obviously, there is a trouble with your Outlook index.
How to Disable Indexing of Outlook Configuration Files Using Windows Indexing Service
To solve the problem, you should temporarily disable Outlook indexing by Windows Indexing Service. To do it:
In Outlook, open File -> Settings
Select Search -> Indexing Options
Click Change
Disable the indexing for Microsoft Outlook
Close Outlook, and using the Process Manager, make sure there is no outlook.exe process in your system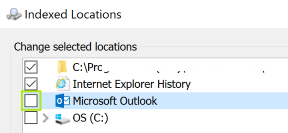 In the properties of OST and PST files, make sure that their indexing is enabled (it is worth to do regardless of their indexing being already enabled in Windows Search Service settings). To do it:
Open File -> Account Settings -> Account Settings
Go to the Data Files tab
Select files one by one and click Open file location
Right-click the OST or PST file you need and select its properties
Click Other
Check Allow this file to have context indexed in addition to file properties -> click OK
How to Enable Indexing in Outlook
Now you have to enable the indexing of Outlook items that were disabled in step 2. Check Microsoft Outlook and save the changes.
Give Outlook some time to complete the indexing (it depends on the number and size of mailboxes and connected PST files). Then try to search something again.
How to Rebuild Index in Outlook 2013
If search problem persists, it is recommended to completely rebuild the index of Windows Search. To do it:
In Outlook, go to File -> Settings -> Search
Click Indexing Options -> Advanced
Click Rebuild
It may take some time to rebuild the index and the performance of your PC may temporarily become low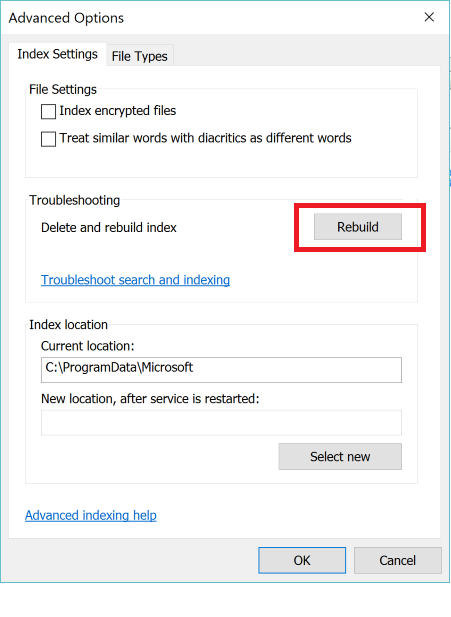 Check PST Files for Errors
In some cases the indexing service is not able to index PST files due to logical errors or corruption of their structure. It is recommended to check and repair corrupted pst file using scanpst.exe.