If you face any troubles when searching for e-mails items in different Outlook versions (nothing is found, not all results are displayed, not all *.pst files used for search, etc.), this article's guidelines should help you to solve Outlook search issues (these recommendations are applicable to all current versions of Outlook 2010, 2013, 2016, 2019, and Outlook 365).
Check Search Indexing Status in Outlook
Outlook Search is powered by the Windows Indexing Service. To perform a search, Windows Search must scan the contents of the mailbox and connected PST files, and build an index of all available Outlook items. Therefore, the first step is to check the status of the Outlook index.
To do it, go to the Search tab, and select Indexing Status in the Search Tools section.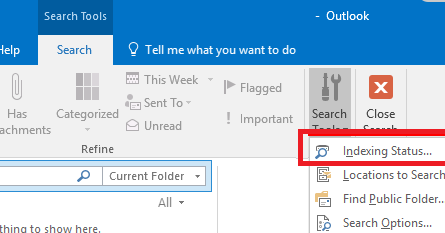 If the indexing is OK, you will see the following status in the next window:
Outlook has finished indexing all of your items.
0 items remaining to be indexed.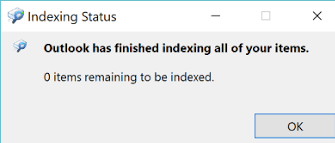 However, if there are any search problems, the status will be different:
Outlook is currently indexing your items.
23817 items remains to be indexed

Outlook search index is rebuilt when you add a new mailbox or Outlook Personal Folder (PST) file, move e-mails between folders, etc. If you have recently (up to 3-4 hours) performed these operations, you need to wait until indexing is complete. If you haven't made significant configuration changes in Outlook for a long time and indexing is still ongoing, then the problem with the Outlook index is obvious.
Enable Outlook Indexing by Windows Search Service
To solve the problem, you should temporarily exclude Outlook from items that are scanned by the Windows Indexing Service. To do it:
In Outlook, open File -> Settings;
Select Search -> Indexing Options;
Click Change
Disable the indexing for Microsoft Outlook;
Close Outlook, and using the Process Manager, make sure there is no outlook.exe process running on your computer.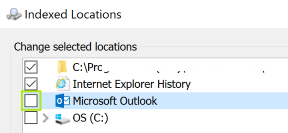 In the properties of Outlook OST and PST files, make sure that their indexing is allowed (it is worth to do regardless of their indexing being already enabled in Windows Search Service settings). To do it:
Open File -> Account Settings -> Account Settings;
Go to the Data Files tab;
Select files one by one and click Open file location;
Right-click the OST or PST file you need and select its properties;
Click Other;
Check Allow this file to have context indexed in addition to file properties -> click OK.
Open an elevated PowerShell console and restart the WSearch service:
Restart-Service -Name wsearch –verbose

Now you need to enable Outlook Indexing in Search Settings, which was previously disabled. Check Microsoft Outlook in the indexing options and save the changes.
Give Outlook some time to complete the full indexing (it depends on the number and size of mailboxes and connected PST files). Check Outlook index status as shown above and try to search something.
How to Rebuild/Reset Outlook Search Index?
If search problem persists, it is recommended to completely reset and rebuild the index of Windows Search service. To do it:
In Outlook, go to File -> Settings -> Search;
Click Indexing Options -> Advanced;
Click Rebuild;
It may take some time to rebuild the index and the performance of your computer may be temporarily degraded.
Check and Repair Outlook PST Files
In some cases the indexing service is not able to index Outlook personal folder files (PST) due to logical errors or corruption of their structure. It is recommended to check and repair corrupted pst files using scanpst.exe.
Outlook Search and Cached Exchange Mode
In this section, we'll take a look at how Outlook search works if your mailbox is located on an Exchange server. If Cached Exchange Mode is enabled in Outlook, the local index on your computer is used to find items. If Cached Exchange Mode is disabled, mailbox-side index (maintained by Microsoft Exchange Search Indexer) is used for mailbox searches.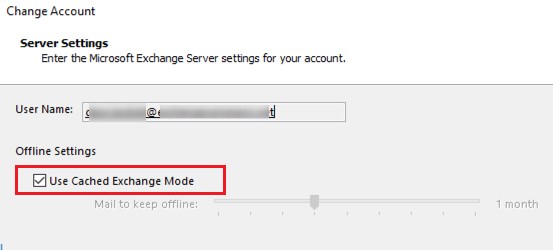 The MSExchangeSearch service indexes an email message as soon as it gets into the mailbox database on the server. If your Outlook doesn't search your mailbox when using the Exchange Search Index, the problem is most likely with the Exchange server. The Test-ExchangeSearch cmdlet is used to diagnose problems with the Exchange Search service.
The most common problem is that the disk has run out (not enough space to increase the size of the search index), or the current index file has been damaged and needs to be rebuilt. You can use the built-in PowerShell script to reset the search index in Exchange %PROGRAMFILES%\Microsoft\Exchange Server\V14\Scripts\ResetSearchIndex.ps1.
To reset the search index for a specific mailbox database, use the command:
.\ResetSearchIndex.ps1 mailboxdbname1
Also check if indexing is enabled for the problem mailbox database:
Get-MailboxDatabase mailboxdbname1 | Format-Table Name,IndexEnabled
Outlook Search Function not Working: what are the other solutions?
What else can you check if Outlook search is not working or returning incomplete results?
From the Outlook menu, select Search Tools -> Locations to Search. Make sure all mailboxes and PST files are selected for search;
Make sure that the PreventIndexingOutlook = 1 parameter is missing in the registry key "HKEY_LOCAL_MACHINE\SOFTWARE\Policies\Microsoft\Windows\Windows Search". This parameter disables Outlook indexing by the Windows Search service. It corresponds to the policy "Prevent indexing Microsoft Office Outlook" under GPO Computer Configuration -> Administrative Templates -> Windows Components -> Search;
In the Outlook settings (File -> Options -> Search) disable the option Improve search speed by limiting the number of results shown;
Disable third-party Outlook extensions (File -> Options -> Add-ins);
Reinstall Outlook using the Repair function of the MS Office installation MSI package (Office 365 has a convenient Quick Repair function);
Use the Windows 10 built-in Search Troubleshooter. To start the tool, run the command: msdt.exe -ep SystemSettings_Troubleshoot_L2 -id SearchDiagnostic 
You may also find a similar article useful: "How to fix search problems in Windows 10?"