Hi, Admin! I had two languages initially installed on a laptop with Windows 10: German and English, but after upgrade to Windows 10 1803 (April Update), two additional languages appeared in the list of languages –
English (United Kingdom)
and
English (Canada)
, although I'm sure that I didn't install them. Now in the list of keyboard layouts I have four languages available. And the system doesn't allow to remove extra languages (the Remove button is grayed out). Now I have to switch between 4 keyboard layouts instead of 2, which is very inconvenient! Please help! What do I need to do to remove these uninstallable preferred language packs?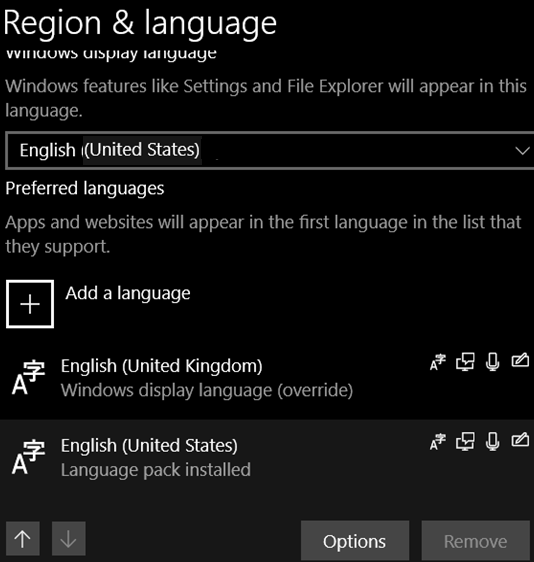 Answer
In fact, the update of Windows 10 1803 brought many surprises to the user (remember at least an extra recovery partition that appeared after the update).
In Windows 10 usually you can remove any language that is not used as the default language. In Windows 10 1803, there is a bug with additional languages. If you add an additional language in the system that uses the same base language as the current Windows display language, then this language can't be removed.
For example, if English (United States) is the current Windows interface language, then after adding English (United Kingdom) you can't remove both languages from the list of preferred languages. And, of course, it is very inconvenient that in the language pane on the taskbar an unnecessary language has appeared.
With the following commands, you can't remove additional languages from the system, because these language packs are not installed on Windows 10.
lpksetup /u en-gb
lpksetup /u en-ca
You can remove the unnecessary extra language only by using PowerShell.
Run Windows PowerShell as administrator.
List the languages installed in Windows 10 with the command: Get-WinUserLanguageList

Remember the value of LanguageTag for the preferred language. For example, your preferred language is English (United States), then LanguageTag = en-US.
Save the value of the preferred language to a variable: $1=New-WinUserLanguageList en-US
Now you can set this language as the preferred language and remove all other additional languages: Set-WinUserLanguageList $1
Press the Y key to confirm the deletion of extra languages.

Make sure all additional languages are gone.
If you need to leave multiple languages in the system, you can only delete unnecessary languages with the following commands. For example, you want to remove languages with the following LanguageTag values: en-Gb and zh-Hans-CN.
$LanguageList = Get-WinUserLanguageList
$DeleteLang = $LanguageList | where LanguageTag -eq "en-Gb"
$LanguageList.Remove($DeleteLang)
Set-WinUserLanguageList $LanguageList –Force
To delete Chinese, replace the second line with:
$DeleteLang = $LanguageList | where LanguageTag -eq "zh-Hans-CN"
Or you can specify the list of languages to be left:
$1=New-WinUserLanguageList en-US
$1.Add("en-US")
$1.Add("de-DE")
Set-WinUserLanguageList $1
Close the PowerShell console and make sure that all extra languages are removed correctly.