As you probably know, a computer running Windows may easily be turned into a Wi-Fi hotspot that other devices can use to access the Internet (How to use your Windows 10 as a Wi-Fi Hotspot).
However, there are no efficient means to remove this hotspot on Windows 10 if it is no longer necessary. Microsoft has not provided them.
This access point works based on a virtual Wi-Fi adapter created separately and called:
Microsoft Virtual WiFi Miniport Adapter in Windows 7
Microsoft Wi-Fi Direct Virtual Adapter in Windows 10 / Windows 8.1
How the Microsoft Virtual Wi-Fi Adapter Is Usually Removed by Users
As a rule, users remove the virtual Wi-Fi adapter as follows:
Stop the hosted network: netsh wlan stop hostednetwork
Disable the wireless hosted network: netsh wlan set hostednetwork mode=disallow
Then open the Device Manager (Devmgmt.msc), find Microsoft Wi-Fi Direct Virtual Adapter in the Network adapters section and select Disable Device and/or delete (Delete) the device in the context menu.

Note.

You can

disable this adapter in PowerShell

with the following command:

Get-NetAdapter -InterfaceDescription "Microsoft Wi-Fi Direct Virtual*" | Disable-NetAdapter -Confirm:$false

After that you need to restart your computer
However, the problem is that after the computer restarts, Microsoft Wi-Fi adapter appears in the list of network cards again.
If the virtual Wi-Fi adapter is disabled like this, it still stays in the system. If a new hotspot is created, a new virtual adapter with an ordinal index will appear in the system (Microsoft Wi-Fi Direct Virtual Adapter #2, Microsoft WiFi Direct Virtual Adapter #3, Microsoft Virtual WiFi Miniport Adapter #4, etc.), and it will use the configuration of the old hotspot. Thus, there may be several virtual adapters in the system, and only one of them is active.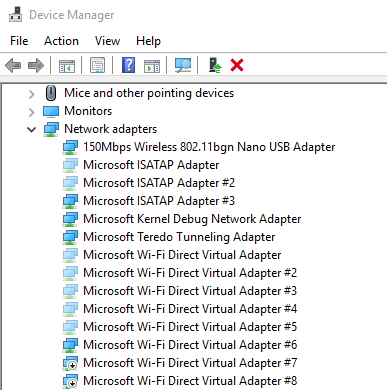 How to Reset the Settings of Microsoft Wi-Fi Direct Virtual Adapter Correctly
The settings of the Wi-Fi hotspot are stored in the registry, so to remove them you must in the registry key HKLM\System\CurrentControlSet\Services\WlanSvc \ Parameters\HostedNetworkSettings remove HostedNetworkSettings DWORD parameter.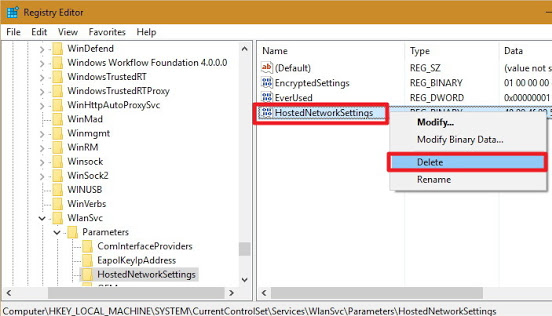 You can delete this parameter using this command:
reg delete hklm\system\currentcontrolset\services\wlansvc\parameters\hostednetworksettings /v hostednetworksettings
Restart your computer. After the restart, make sure that the settings of the hosted network have been reset.
net start wlansvc
netsh wlan show hostednetwork
"Not configured" value must be specified in the Settings field of the Hosted network settings section.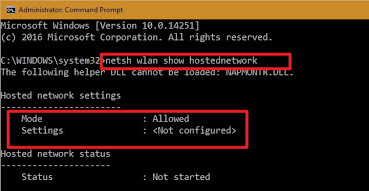 How to Uninstall Microsoft Virtual Wi-Fi Adapter on a Computer with Intel WLAN Card Installed
There is another problem with Intel WLAN adapters. If Intel My WiFi Technology module (as a rule, it is installed together with Intel PROSet/Wireless driver package) is installed, 2 Microsoft Virtual WiFi Miniport adapters may be present in the system, which cannot be removed.
In this case, find Intel PROSet/Wireless in the list of the installed software in the Control Panel, change it and uninstall Intel My WiFi Technology feature.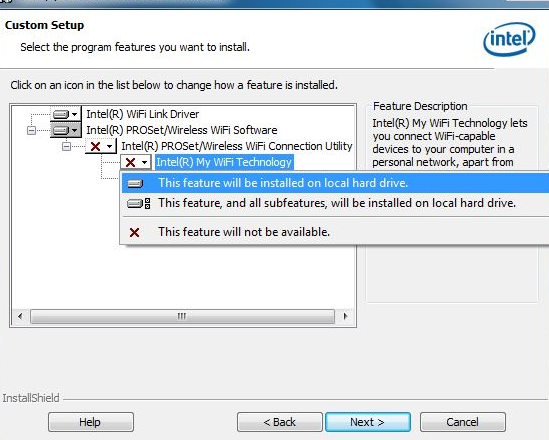 After that, one of the virtual network adapters will disappear. The second one can be removed using the method described above.