I encountered a strange issue in Windows 10 when all VPN connections suddenly stopped working with the following error message:
Can't connect to VPN
A connection to the remote computer could not be established. You might need to change the network settings for this connection.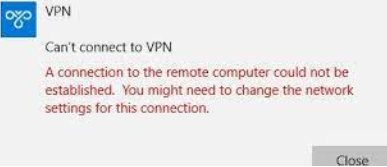 I use a built-in Windows VPN client to connect. On the neighboring device, the VPN connection with the same settings works fine, so the problem is not with the remote VPN host.
There is a VPN error 720 in the Application log of Event Viewer:
EventID: 20227
Source: RasClient
The user dialed a connection named VPN which has failed. The error code returned on failure is 720.
The basic recommendation in such cases is to reset the TCP/IP stack and network adapter settings on your computer with the following commands:
netsh winsock reset
netsh int ip reset
ipconfig /release
ipconfig /renew
ipconfig /flushdns
The connection may be blocked by Windows Firewall rules or a third-party antivirus/firewall (try to disable them for some time).
Make sure that Windows doesn't use WinHTTP proxy to access the Internet.
netsh winhttp show proxy

Current WinHTTP proxy settings:
Direct access (no proxy server).
In this example, a direct connection is used.
If you want to reset proxy settings, run the command below:
netsh winhttp reset proxy
In my case, I was not able to connect to VPN after doing it.
Then try to reinstall the WAN Miniports virtual adapters in the Device Manager.
WAN Miniports are virtual network adapters with drivers for different connection protocols. Windows has WAN Miniport adapters for IKEv2, IP, IPv6, L2TP, Network Monitor, PPPOE, PPTP, and SSTP.
Open the Device Manager (devmgmt.msc), expand the Network Adapters section, and uninstall all devices with the name WAN Miniport;
For example, select WAN Miniport (SSTP), right-click it, and select Uninstall Device in the context menu;
Move on to the next WAN Miniport device. You need to remove all devices:

WAN Miniport (PPTP)
WAN Miniport (PPPOE)
WAN Miniport (Network Monitor)
WAN Miniport (L2TP)
WAN Miniport (IPv6)
WAN Miniport (IP)
WAN Miniport (IKEv2)

Then rescan your hardware configuration (Action -> Scan for Hardware changes), and wait till Windows detects and installs drivers for WAN Miniport devices;
After all WAN Miniports have been reinstalled, check your VPN connection. It should work.
You can use PowerShell to diagnose any WAN Miniports issues.
Make sure that all protocols are enabled for a network adapter (Enabled=True), and there are no third-party drivers among your filtering drivers (they can be added by your antivirus software).
$adapter=Get-NetAdapter -IncludeHidden | Where-Object {$_.InterfaceDescription -eq "WAN Miniport (PPTP)"}
Get-NetAdapterBinding -Name $adapter.name -IncludeHidden –AllBindings

You can enable/disable a filtering driver with the command:
Enable-NetAdapterBinding -Name $adapter.name -IncludeHidden -AllBindings -ComponentID ms_wanarp