Hi, admin! After installing Fall Creators Update (1709) on Windows 10 computer, I cannot access the shared network folders from my computer. Interestingly, only some network folders on NAS devices and some other computers on my local network (not a domain) became inaccessible.
Restoring Network Connections
An error occurs when you try to open a network folder:
An error occurred while reconnecting Y: to \\nas1\share
Microsoft Windows Network: You can't access this shared folder because your organization's security policies block unauthenticated guest access. These policies help protect your PC from unsafe or malicious devices on the network.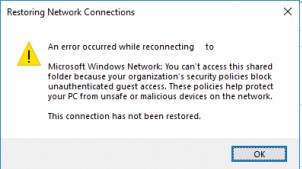 Other computers have not yet upgraded to 1709, and there are no problems with network access. What can I do in this case? Rollback 1709?
Answer
The matter is that, as part of the removal of old unsafe versions of the SMB protocol (remember the wannacry ransomware attack, which was just performed through a vulnerability in SMB v 1.0 ?), Microsoft in Windows 10 Fall Creators Update (Windows 10 Enterprise and Windows 10 Education editions) and Windows Server 1709 (both in Datacenter and Standard editions), in addition to completely disabling SMBv1, by default it also blocked network access under the guest account to the remote system using the SMBv2 protocol.
The problem is that when accessing a network folder under a guest record, such methods of traffic protection as SMB signing and encryption are not used, which makes this type of access vulnerable to MiTM attacks.
In Windows 10 Home and Pro 1709, these changes are not applied and the network access under the guest account is working fine.
If you try to access a network shared folder using the SMB v2 protocol under the guest account, an error appears "your organization's security policies block unauthenticated guest access". And in the SMB client log (Microsoft-Windows-SMBClient), the following event appears:


Rejected an insecure guest logon.

That's why when you try to access SMBv2 network folders under the guest account (in most cases NAS devices use guest access) or shared folder on the computer with older Windows versions you get this error. According to the
previously published table
of supported versions of SMB in different versions of Windows, SMB 2.0 is used in Windows Server 2008 and WIndows Vista SP1, and SMB 2.1 in Windows Server 2008 R2 and Windows 7.
To enable access under the guest account, you need to use the Group Policy Editor (gpedit.msc). Go to the section: Computer Configuration ->Administrative templates -> Network -> Lanman Workstation. Find and enable the policy Enable insecure guest logons.
This policy settings determines if the SMB client will allow insecure guest logons to an SMB server

Or manually create the following registry key:
HKLM\SYSTEM\CurrentControlSet\Services\LanmanWorkstation\Parameters "AllowInsecureGuestAuth"=dword:1
If this solution does not help, maybe your NAS (or another remote device which provides access to network folders over SMB) only supports SMBv1. Try to enable this protocol on your Windows 10 device (Windows Features -> SMB 1.0/CIFS File Sharing Support -> SMB 1.0/CIFS Client).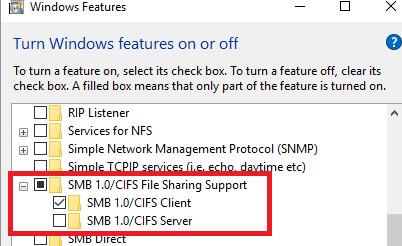 However, you should understand that using this workaround is not recommended, because this reduces the level of protection for your system.