A web-server Internet Information Service in Windows 2012 / R2 (IIS 8), like earlier IIS versions, can be managed remotely. In fact, it is convenient enough to manage a number of IIS servers from a single console, and it is almost the only way to manage a web server running in the Core mode. However, by default the remote IIS management is disabled if you try to add a remote server with the IIS running to the IIS Management Console (Connect to a Server menu) on another server. The following error message appears:
Could not connect to the specified computer
Details: Unable to connect to the remote server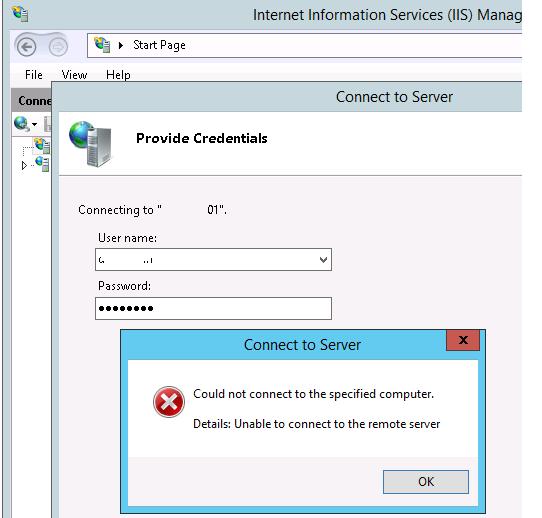 The matter is that during the standard IIS installation the service responsible for its remote management (IIS Management Service) is not installed. You can make sure that this service is absent in the system using the following Powershell command:
1


Get

-

WindowsFeature 

*

web

-

mgmt

*

As we can see, Web-Mgmt-Service is not installed. Let's install it, running the following Powershell command with administrator privileges:
1


Add

-

WindowsFeature Web

-

Mgmt

-

Service
Then restart IIS:
The next step is to allow remote connections on the web server. To do it, open Management Service in Management section of IIS Manager.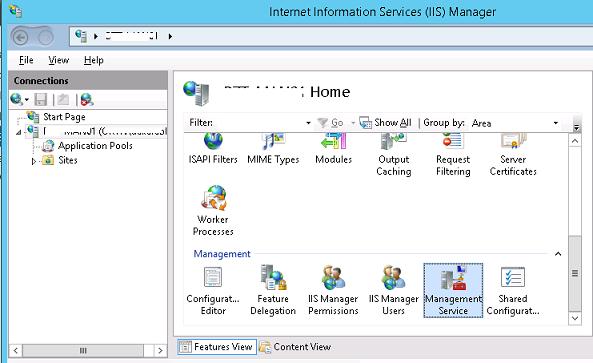 Check the «Enable remote connections» option in Management Service section.
Here you can restrict connections to the IIS Management Console by IP address. To do it, deny connections for unspecified clients (Access for unspecified clients:Deny) and specify IP address/IP subnet for which the connection is allowed. Save the changes.
Note. By default, the port 8172 is used for remote IIS management. After the changes are saved, this port is opened in Windows firewall automatically.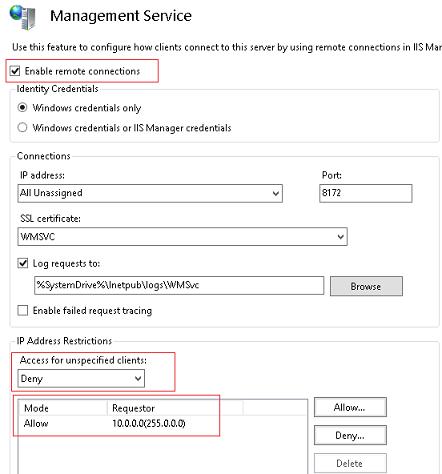 Advice
. You can activate this option through the registry on the remote IIS server running in the Core mode by setting value 1 to the
EnableRemoteManagement
key in the branch
HKLM\Software\Microsoft\WebManagement\Server
. The command is:
1


Reg Add HKLM\Software\Microsoft\WebManagement\

Server

 

/

V EnableRemoteManagement 

/

T REG_DWORD 

/

D 

1
In this case you have to create the rule for the firewall manually:
1


netsh advfirewall firewall add rule name="Allow IIS Web Management" dir=

in

 action=allow service="WMSVC"
Now you just have to start Web Management Service:
And configure the service to start automatically when the system starts up:
1


set

-

service wmsvc 

-

StartupType Automatic
Or as follows:
| | |
| --- | --- |
| 1 | sc config WMSVC start= auto |

After that the remote IIS can be added to the management console IIS Manager and managed in the same way as the local web server.