Let's consider how to set the same desktop background (wallpapers) on all domain computers using Group Policies. As a rule, it is important for large businesses that require all employees using the same corporate desktop background.
Infrastructure requirements:
domain level has to be Windows 2008 or later
clients — Windows 7 or later
We'll need a file containing the image you want to use as a desktop background. The format of this file can be BMP or JPG. It is recommended to test if the file view is correct on the screens with different resolution.
This file can be copied to all computers in advance, but it is more convenient if the clients take it from the network folder. As such, you can use a file server, a SYSVOL folder on the domain controllers or a DFS folder. We have chosen the second variant for our distributed network, since the SYSVOL contents is automatically replicated among all DCs and allows to reduce WAN traffic between the branches when the clients are getting the image file.
Copy the image file on any domain controller to C:\Windows\SYSVOL\sysvol\woshub.loc\scripts\Screen folder. A UNC path to this file looks as follows: \\woshub.loc\SYSVOL\woshub.loc\scripts\Screen\corp_wallpaper.jpg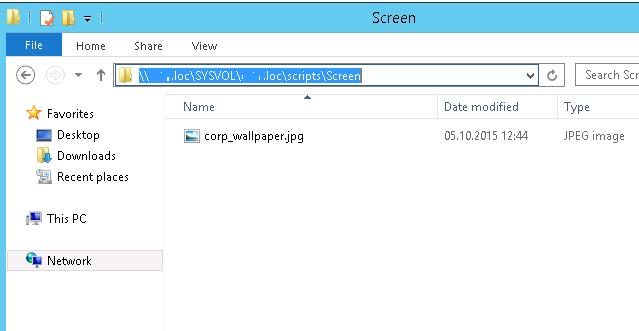 Certainly, users must have read permissions for this file. (Make sure that you checked NTFS permissions by giving Read permission to Domain Users group.)
Then open GPO Management console GPO (GPMC.msc). Create a new policy and assign it to the necessary OU with the users. (In our case, we want the policy to be applied to all domain computers and servers, so we just edit the Default Domain Policy.) Open the policy in the edit mode.
We need the settings in the section User Configuration -> Policies -> Administrative Templates -> Desktop -> Desktop.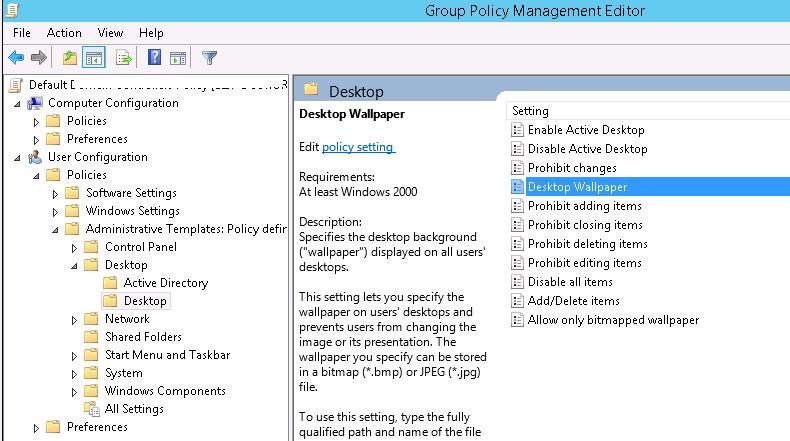 We have to enable the policy Enable Active Desktop.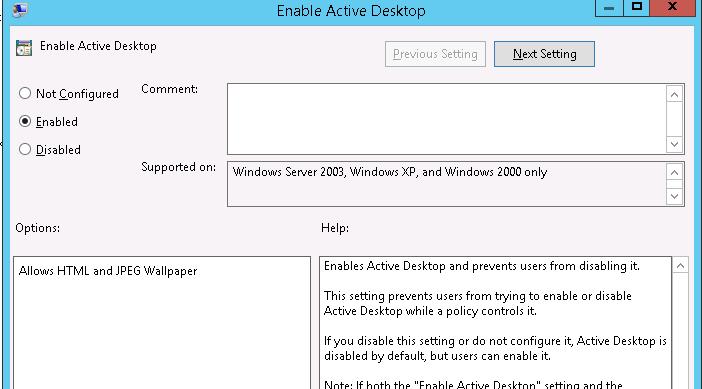 Then enable Desktop Wallpaper policy. In the policy settings, specify the UNC path to the image file and select Fill as a wallpaper style.
Tip. As a rule, Fill wallpaper style looks well almost at any screen resolution.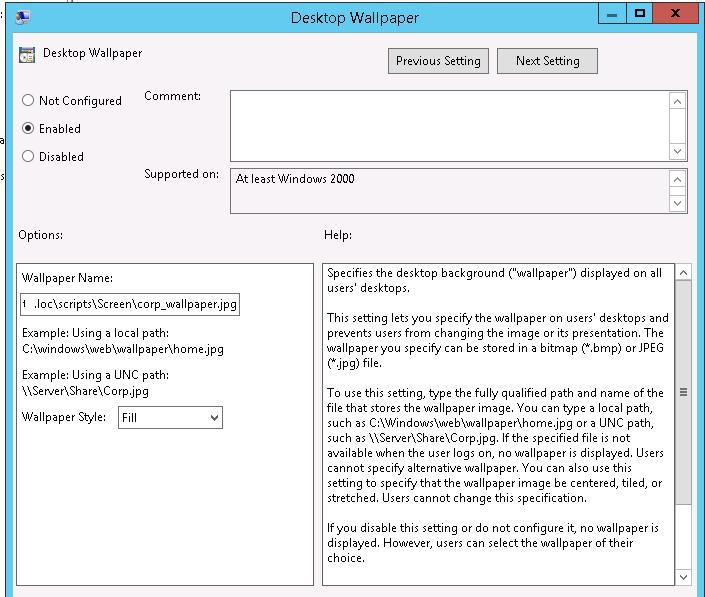 To make sure that the policy has been enabled, log off and sign in again. The set wallpaper has to appear on your desktop.
If you have to prevent users from changing the wallpaper, enable Prevent Changing Desktop Background policy in User Configuration -> Administrative Templates -> Control Panel -> Personalization.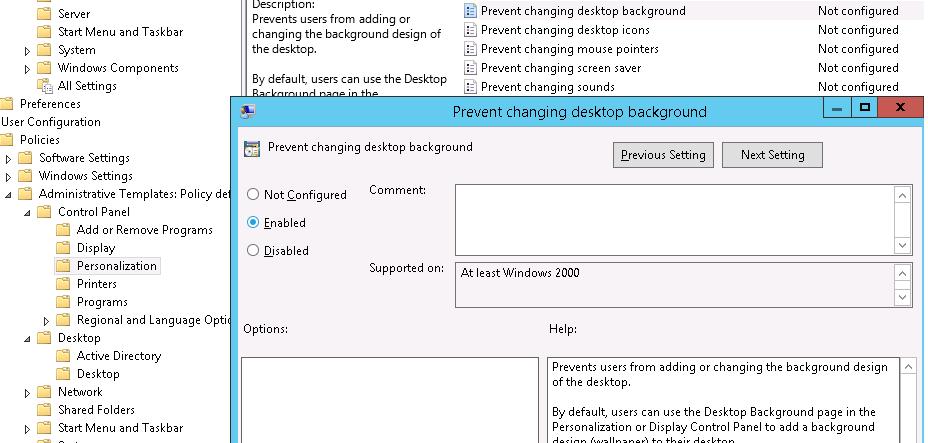 Tip.
You can also set a file with the background wallpaper using the registry by changing the path to the file in the Wallpaper parameter in
HKCU\Software\Microsoft\Windows\CurrentVersion\Policies\System.
It is convenient to change the value of a registry parameter using the GPO extension — Group Policy Preferences,  which allows to implement the scenarios of assigning different wallpapers to different groups of users.
You can prevent wallpaper change in the registry as well:
[HKEY_CURRENT_USER\Software\Microsoft\Windows\CurrentVersion\Policies\ActiveDesktop]
"NoChangingWallPaper"=dword:00000001