Microsoft has brought Remote Desktop Shadowing to Windows Server 2012 R2 and Windows 8.1. We remind that Shadow mode (Shadow session) can be used by administrator to view and manage any active terminal user session. This mode has been supported almost since the first Microsoft terminal server versions and was suddenly removed from Windows Server 2012 (due to the transfer of the stack rdp from kernel to user mode).
Additionally, RD Shadow and RDP client have got some new interesting features. The full list of RDP client (mstsc.exe) options that define the possibility of connection to a terminal user session:
Mstsc.exe [/shadow:sessionID [/v:Servername] [/control] [/noConsentPrompt]]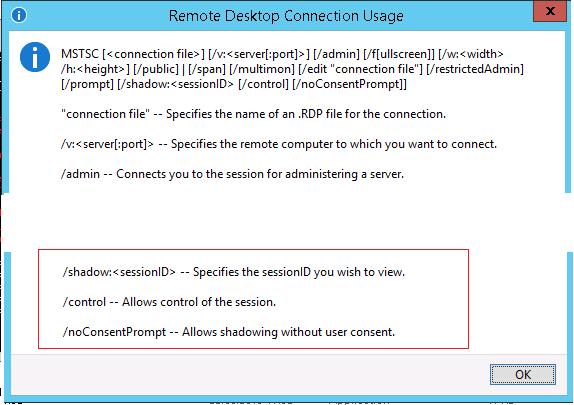 /shadow:ID – allow to connect to a terminal session with the specified ID
/v:servername is the name of a terminal server (if not set, a current server will be used)
/control allows to interact with the user session (if not set, a user session view mode is used)
/noConsentPrompt allows not to prompt the user for confirmation to connect to a session
Restrictions of the RDS Shadow Sessions in Windows 2012 R2
Only server administrator can connect to other sessions. These rights can not be delegated to regular  users
RDS Shadow won't work in the networks based on workgroups
Remote Desktop Shadow: How to Work in GUI
You can connect to a user session using mstsc.exe or directly from Server Manager console. To do it, open QuickSessionCollection in Server Manager.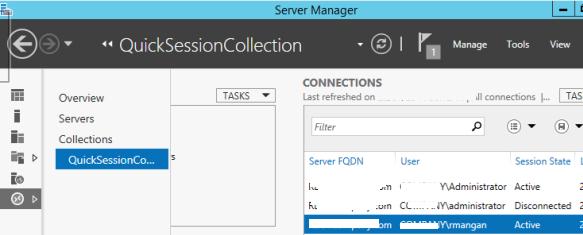 Click a user session and select Shadow in the dropdown menu.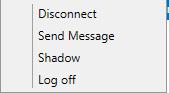 A window of Shadow connection parameters appears. You can either View or Control a session. You can also check Prompt for user consent option.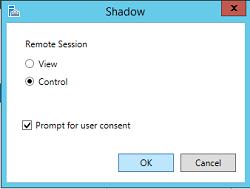 If this option is checked, the following request appears in the session:

If a user accepts this request, the administrator will see the desktop and be able to interact with it.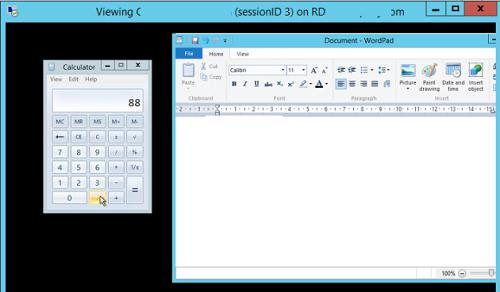 If a user denies the connection, the following window appears: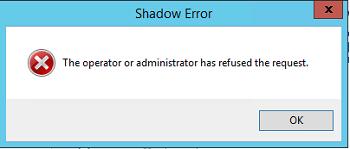 When trying to connect to a user session without the confirmation request, an error appears that this behavior is set by a group policy.

The settings of the remote terminal user session management are determined by the policy Set rules for remote control of Remote Desktop Services user sessions, which is located in Policies -> Administrative Templates -> Windows components -> Remote Desktop Services -> Remote Session Host -> Connections in user and computer sections of the GPO.

This policy can be used to configure the following RD Shadow connection variants:
No remote contol allowed
Full Control with users's permissionя
Full Control without users's permission
View Session with users's permission
View Session without users's permission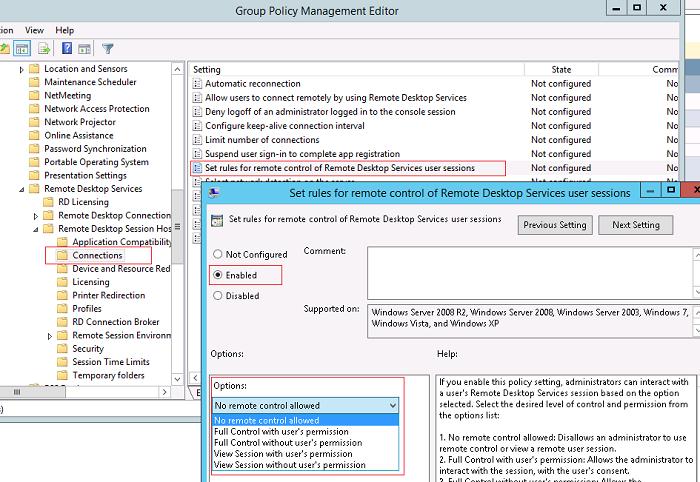 RDS Shadow from Powershell
You can also use Remote Desktop Services Shadow features from Powershell.

First of all, we'll demonstrate how to get a list of sessions on the terminal server. (User sessions will be grouped depending on their status.)
Get-RDUserSession | ft Username, UnifiedSessionId, SessionState, HostServer, ApplicationType -GroupBy Sessionstate

There are three active terminal sessions on this server. Let's connect to the user session with the session ID 3: