The RDS administrator can use the Shadow session mode to view and remotely manage an active RDP session of any user. This mode has been supported almost since the first Microsoft terminal server versions and was unexpectedly removed from Windows Server 2012 (due to the transfer of the RDP stack from kernel to user mode). Microsoft decided to return the Remote Desktop Shadowing (shadow connection) functionality on Windows 2012 R2 and Windows 8.1. Also RDS Shadow works in newer versions of OS: Windows Server 2016 and Windows 10 (Using Remote Desktop Session Shadowing Mode in Windows 10).
Shadow connection options in the Windows RDP client
Additionally, the RD shadow connection mode and native Windows RDP client have got a number of new interesting features. The complete list of RDP client (mstsc.exe) options that define the possibility of connection to an RDS user session:
Mstsc.exe [/shadow:sessionID [/v:Servername] [/control] [/noConsentPrompt]]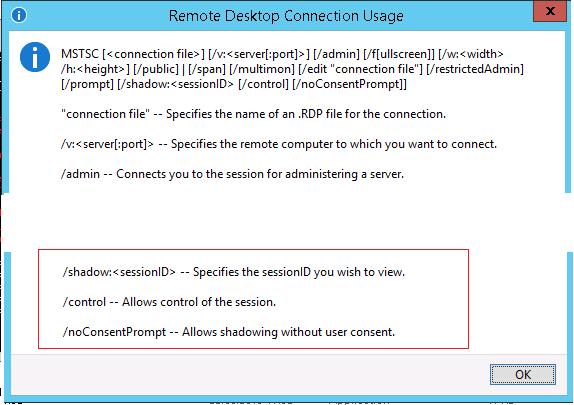 /shadow:ID – connect to the RDP session with the specified ID.
/v:servername – hostname or IP address of the RDP / RDS server (if not set, a current server / computer will be used).
/control – allows to interact with the user session (if not set – a user session view mode is used).
/noConsentPrompt – allows not to prompt the user for confirmation to connect to a session.
/prompt – used to connect with other credentials. The user name and password are requested to connect to the remote computer.
Restrictions of the RDS Shadow Sessions in Windows 2012 R2
Only the server administrator can connect to other user sessions. These permissions can't be delegated to a common user.

RDS Shadow does not work in the networks based on workgroups.
Using Remote Desktop Shadow from the Windows GUI
You can connect to a user session using mstsc.exe or directly from Server Manager console. To do it, open QuickSessionCollection in Server Manager.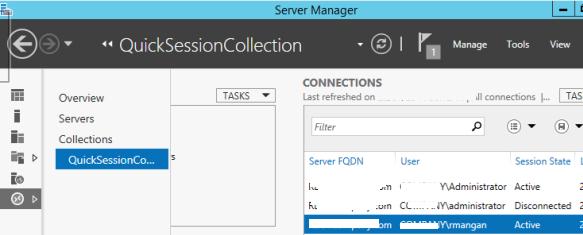 Click a user session and select Shadow in the dropdown menu.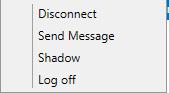 A window with Shadow connection settings appears. You can either View or Control a session. You can also check Prompt for user consent option.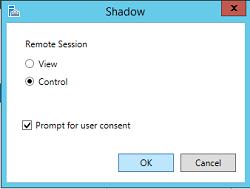 If this option is checked, the following request appears in the user's RDP session:
woshub\administrator is requesting to view your session remotely. Do you accept the request?

If a user confirms the connection, the administrator will see the user's desktop and will be able to interact with it.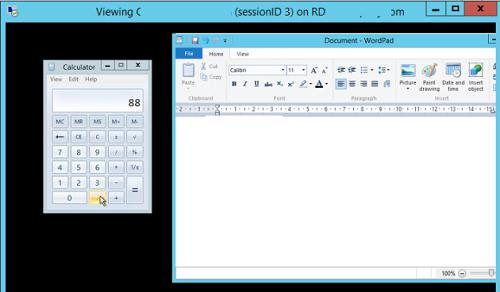 Tip. To disconnect from a user session and exit the Shadow mode, press ALT+* on the workstation or Ctrl+* on the RDS server (if other combinations are not set).
If a user rejects the connection, the following window appears:
Shadow Error: The operator or administrator has refused the request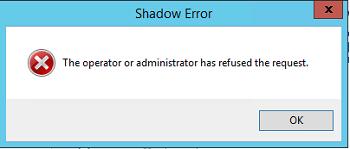 If you attempt to connect to a user's session without prompting for confirmation, you receive an error message:
Shadow Error: The Group Policy setting is configured to require the user's consent. Verify the configuration of the policy settings.

The settings of the remote management of RDS user sessions are configured by the policy Set rules for remote control of Remote Desktop Services user sessions, which is located in the User and Computer sections of the GPO:  Policies -> Administrative Templates -> Windows components -> Remote Desktop Services -> Remote Session Host -> Connections. This policy corresponds to the DWORD Shadow parameter in the registry key HKLM\SOFTWARE\Policies\Microsoft\Windows NT\Terminal Services.
This policy can be used to configure the following RD Shadow connection options:
No remote control allowed (corresponds to the value of the registry key Shadow = 0);
Full Control with user's permission (1);
Full Control without user's permission (2);
View Session with user's permission (3);
View Session without user's permission (4).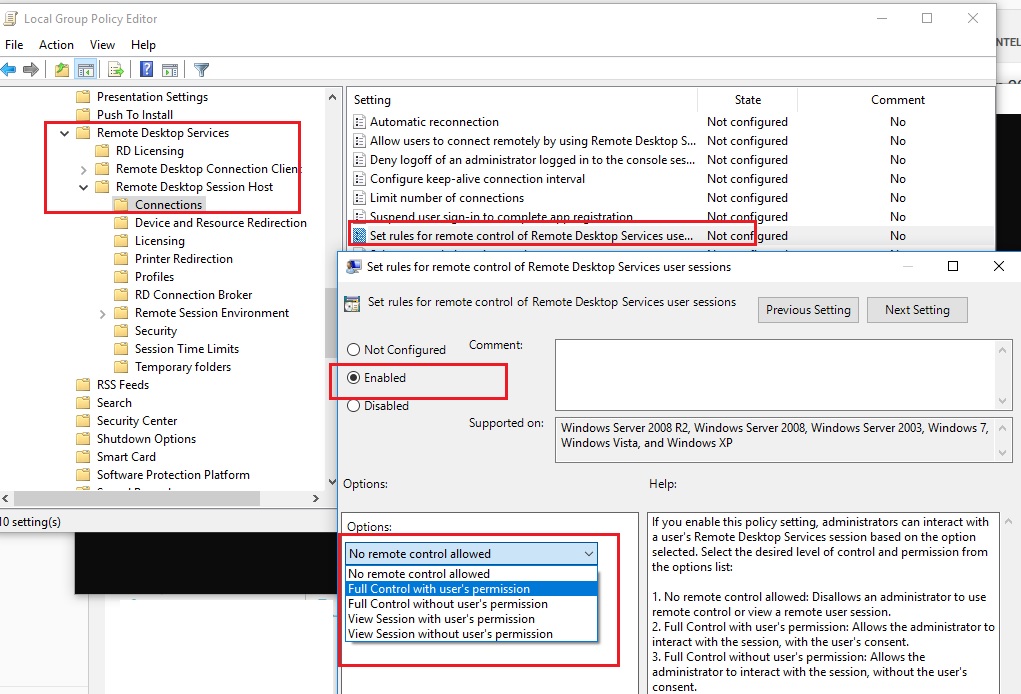 RDS Session Shadow from PowerShell
You can also use Remote Desktop Services Shadow features from Powershell. First of all, we'll show how to get a list of sessions on the RDS server (user sessions will be grouped according to their status).
Get-RDUserSession | ft Username, UnifiedSessionId, SessionState, HostServer, ApplicationType -GroupBy Sessionstate


There are three active terminal sessions on this server. Let's connect to the user session with the session ID 3:
Mstsc /shadow:3 /control


In order to get a list of all RDP sessions on the RDS server, you can also run the command:
quser
or
qwinsta
The screen displays the list of RDP sessions, their IDs and status: Active or Disconnected.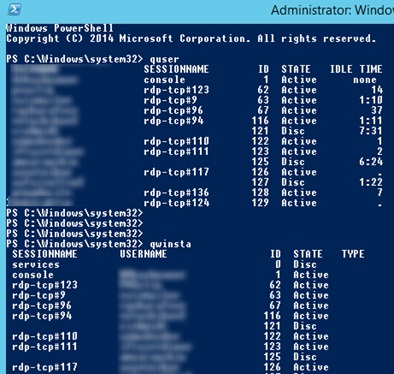 To show the list of sessions on a remote RDS server, run the following command:
query session /server:servername
For more convenient shadow connection to user sessions, you can use the following script. It prompts you to enter the name of the remote RDS server, displays a list of all sessions and prompts you to specify the session (ID) to which you want to connect to:
shadow.bat
@echo off
set /P rcomp="Enter name or IP of a Remote PC: "
query session /server:%rcomp%
set /P rid="Enter RDP user ID: "
start mstsc /shadow:%rid% /v:%rcomp% /control
You can place this script in the %Windir%\System32 directory. As a result, you just need to run the shadow command for the shadow connection.
To connect to the console session, you can use this script:
shadow_console.bat
@echo off
set /P rcomp="Enter name or IP of a Remote PC: "
for /f "tokens=3 delims= " %%G in ('query session console /server:%rcomp%') do set rid=%%G
start mstsc /shadow:%rid% /v:%rcomp% /control
How to Allow Non-admin user to perform RD shadow
In the examples above using the shadow connection to RDS user sessions requires local administrator rights on the RDS server. However, you can allow a user to shadow remote sessions, without admin rights.
For example, you want to allow members of the AllowRDSShadow group to use a shadow connection to user sessions. Run the command:
wmic /namespace:\\root\CIMV2\TerminalServices PATH Win32_TSPermissionsSetting WHERE (TerminalName="RDP-Tcp") CALL AddAccount "woshub\AllowRDSShadow",2
In January 2018, after installing the update KB4056898 (the Windows patch against Meltdown and Specter), users encountered that the RDS shadow stopped working. When attempting to perform a shadow connection to a user session, the message "An unidentified error" appeared (there is a STATUS_BAD_IMPERSONATION_LEVEL error in the Windows logs). A similar problem arose on the RDS farm Windows Server 2016.
To solve the problem, you need to install the following patches:
for Windows Server 2016 — KB4057142 (January 17, 2018)
for Windows Server 2012 R2 — KB4057401 (January 17, 2018)