In this review we are going to explain what is Windows 10 LTSC Enterprise; when it is better to use this edition; in what way it differs from Windows 10 LTSB 1607; where to download this operation system version and how to activate it. In brief, Windows 10 LTSC is a special edition of Windows 10 Enterprise with a less frequent functionality update (the build is not updated every six months), lack of some features and no preinstalled Windows Store. Learn more about Windows 10 Enterprise LTSC 2019 in this article.

Windows 10 Servicing (Release) Channel
The LTSC abbreviation in the name of this Windows 10 edition stands for Long-Term Servicing Channel. To understand what it means you have to understand the concept of Windows servicing channels. Microsoft uses them in the life-cycle of its OS in the Windows-as-a-Service model.
Windows LTSC version is a special Windows edition with the long-term support. In the Windows LTSC versions (earlier they were called LTSB – Long-Term Servicing Branch) Microsoft focuses on the system stability.
Windows 10 LTSC life-cycle is 10 years (5 years of the main lifetime and 5 years of extended support). It means that Microsoft will support Windows 10 1809 till 2028. Windows 10 Enterprise LTSC gets 5 more years of extended support only if your company takes part in the Software Assurance program.
At the same time in the support period this Windows version gets only the security updates and patches to fix certain bugs. Meanwhile, Windows functionality will not get any changes. Microsoft updates Windows 10 LTSB/LTSC build every two or three years (and the user decides if they want to upgrade to the next long-term build, i. e. the OS is not upgraded automatically). Today the latest LTSC version is based on Windows 10 1809 (the previous LTSB version was based on Windows 10 1607).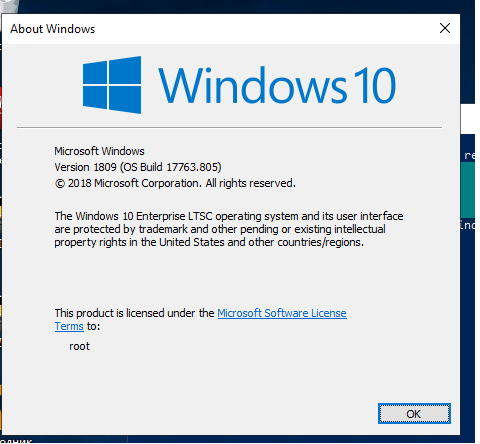 Unlike the LTSC channel, SAC (Semi-Annual Channel), earlier known as CB — Current Branch, is designed for those who want to get all the latest Windows features (Feature Updates) as soon as possible.
As part of the SAC channel, Microsoft releases new Windows 10 build twice a year (in spring and in autumn – these are the builds Windows 10 1703, 1709, 1803, 1809, 1903, 1909, etc.). Each new Windows edition in SAC is supported for 18 months only. It means that if your Windows version was released more than 18 months ago, it would not get any security updates or bug fixes.
You can find out your current Windows 10 service channel using PowerShell:
Get-ComputerInfo | fl WindowsProductName, WindowsVersion, WindowsInstallationType, OsServerLevel, OsVersion

In this example, the computer is running Windows 10 in the Semi-Annual Channel. The build 1903 is used.
If you try to run the same command on Windows 10 LTSC 2019, you will get the following result:
WindowsProductName : Windows 10 Enterprise LTSC 2019
WindowsVersion : 1809
WindowsInstallationType : Client

Where Can I Use Windows 10 LTSC?
In Microsoft conception, the LTSC version is not intended to be installed on general-purpose computers or on all corporate computers. It means that this edition is not for widespread use on common office workstations. LTSB is supposed to be used on business-critical computers, where security and stability are more important for the users than the changes of interface or system features. For example, self-service terminals, kiosks,  medical systems, industrial systems with controllers, ATMs, air traffic control computers, etc., are the most suitable candidates for installing Windows 10 LTSC. I. e. LTSC niche is close to the class of embedded devices.
According to Microsoft statistics, Windows 10 LTSC/LTSB edition is used by about 3% of devices running Win 10.
Advantage and Difference Between Windows 10 LTSC 2019 and Windows 10 1809
In Windows 10 LTSC 2019, unlike Windows 10 1809 from the Semi-Annual Channel (which it is based on), there are no these features in the operation system:
Edge browser;
Microsoft Store;
Preinstalled UWP apps (apps from Microsoft Store, both official and third-party ones). Even a Photo Viewer must be enabled manually;
OneDrive;
Virtual assistant Cortana;
Windows Ink Workspace, a digital pen;
There is no hardware support for VP9/HEVC  ( used on YouTube, encrypted video streams – Netflix, Amazon Video, etc.).
Windows 10 LTSC Start Menu is empty – you won't see any icons of preinstalled apps.
Due to the absence of unnecessary UWP apps, you don't need to update them (the system downloads and installs only critical security updates), and there are less active processes number in the Task Manager. This is why Windows 10 LTSC may be installed on old models of PCs or laptops with 2 (or even 1!) GB of RAM. It also takes up less disk space.
Since Windows 10 LTSC is based on the Enterprise edition, there is a set of all necessary software and features to be used in corporate networks (Windows To Go, AppLocker, Local Group Policy Editor – gpedit.msc, you can join this Windows edition to the Active Directory domain, integrated Microsoft Application Virtualization (App-V) support and User Environment Virtualization (UE-V), Device Guard and Credential Guard, DirectAccess, Branch Cache, advanced telemetry management options, etc.).
Windows 10 LTSC Licensing
Like any other Windows Enterprise editions, Windows 10 LTSC is officially available only to corporate users under the Volume Licensing program. So if your company has an active Software Assurance subscription, you are able to download and run LTSC edition legally.
How to Download Windows 10 LTSC Evaluation?
Any user can download the ISO with the trial version of Windows 10 LTSC from Microsoft Evaluation Center website for free (https://www.microsoft.com/en-us/evalcenter/evaluate-windows-10-enterprise).
Just select the ISO – LTSC edition (Windows 10 Enterprise LTSC x86 and x64 are available), fill in the registration form and get your Windows 10 installation ISO.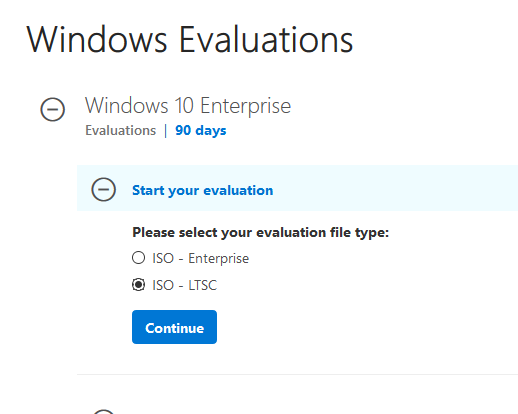 To install the Evaluation edition, you don't need to specify the Windows 10 product key. You can use the evaluation LTSC version for 90 days, and then you have to activate it using the private MAK key (or on your KMS server). Otherwise, the screen background will become black, and your computer will be restarted every hour.
You can extend Windows 10 LTSC 2019 evaluation period up to three times using slmgr.vbs /rearm command. Thus, you will be able to use the evaluation version for 4×90=360 days – it is almost a year!
Is it Possible to Upgrade from Windows 10 LTSB?
You cannot upgrade to LTSC (inplace upgrade) from Windows 10 edition in different service channels. For example, you won't be able to upgrade from Windows 10 1809 to Windows 10 LTSB 2019 without completely reinstalling the operating system. However, you can upgrade your LTSB(C) version to a newer one. Now it is possible to in-place upgrade from Windows 10 LTSB 2016 to LTSC 2019 (although Microsoft does not recommend this way).
KMS Activation of Windows 10 LTSC 2019
You can activate Windows 10 LTSC on your KMS server. To do it, just specify Windows 10 LTSC GVLK product key (M7XTQ-FN8P6-TTKYV-9D4CC-J462D) and the KMS server name (see the KMS Activation FAQ). Run these commands in the command prompt (replace the KMS server name to the one you are using):
slmgr /ipk M7XTQ-FN8P6-TTKYV-9D4CC-J462D
slmgr /skms kmssrv1.woshub.com:1688
slmgr /ato
If the error 0xC004F074 occurs when trying to activate Windows 10 LTSC on the KMS server, it means you have to install the updates on your KMS server to support activation of the Windows 10 LTSC 2019, Windows 10 1809 and Windows Server 2019 (see this article).