If you accidentally delete or replace one or more system default fonts in Windows 8.1 / 8 you can try to restore them. The issue of missing fonts can manifest itself as follows: in system dialog boxes (and some other windows) instead of normal symbols something strange or unreadable symbols are depicted. In our example, these are hieroglyphs and squares. This problem can occur after a third-party app is uninstalled, which also deleted a number of default fonts from the system (up to total clearing fonts files in C:\Windows\Fonts). Also, the problem with fonts can occur when a certain program during installation replaces one of the standard fonts with its own one.
In this article we'll discuss a means to repair broken system fonts in Windows 8 / Windows 8.1 to their clean state.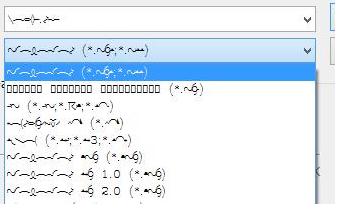 Firstly you should try to restore default Windows fonts using the built-in features. To do it:
Go to Control Panel -> Appearance and Personalization -> Fonts
In the left pane, select Font settings.
Tip. The installation of a large number of fonts can lead to problems with system performance and some apps (usually connected with graphics and layout). This option allows to remove all third-party fonts and leave only default Windows 8 fonts.
The magic of the Restore default font settings button is that it removes all third-party fonts from the system and only standard Windows 8 fonts are left. However, if the file of a font has been replaced or removed, the restore function won't help. The only way to get the font back is to copy it manually.
The missing font files can be copied from any computer running the same OS version. Also you can extract them from the Windows 8 installation image. Let's consider the latter case.
To do it, we'll need the Windows 8 installation disk (physical or mounted virtual ISO). Suppose letter D is assigned to it:
Open Powershell command prompt with administrator privileges and copy D:\sources\install.wim file into C:\Distr\ directory
Copy-Item

 D:\sources\install.wim  C:\Distr\
Mount the file of Windows 8 installation image install.wim to C:\Distr\wim directory.
dism 

/

mount

-

wim 

/

wimfile:c:\Distr\install.wim 

/

index:

1

 

/

mountdir:C:\Distr\wim
Tip
. In our example, the installation disk contains one Windows version with the index 1 (/index:1). If the installation disk contains several Windows versions, you can choose the right index as described
here
.

Tip. If the DISM command returns the following error: Error: 0xc1510111 You do not have permissions to mount and modify this image, make sure that the attribute Read-Only is not checked in install.wim properties.
Copy the original fonts from C:\Distr\wim\Windows\Fonts to C:\Windows\Fonts.
Copy-Item

 

-path

 C:\Distr\wim\Windows\Fonts 

-Destination

 C:\Windows 

-recurse

 –container 

-force
The font files will be replaced with the original ones. Some system fonts that are currently used won't be replaced. This is evidenced by a number of errors in the console window.
Unmount the image
dism 

/

unmount

-

wim 

/

mountdir:C:\Distr\wim 

/

discard
Restart your computer and check if the font problem persists.
If you don't have Windows 8 distribution disk, you can copy the directory with the original fonts from another computer running the same OS version or use ready font archives that can be downloaded following links below:
Download and unpack the archive for your Windows 8 version and copy its contents to C:\Windows\Fonts with the replacement of the files.
Tip. If the font issue has appeared after a new font had been installed, the contents of C:\Windows\Fonts can be pre-cleared before replacement (the fonts you are currently using won't be replaced). This is done using the button in the Control Panel, we discussed above.