Many users have noticed that when running or installing some programs  in Windows 10, "This App has been Blocked for Your Protection" error pops up and prevents normal running or installing the applications. Thus, even a user with local administrator privileges cannot run or install such applications.
This app has been blocked for your protection
An administrator has blocked you from running this app. For more information, contact the administrator.
The error "This publisher has been blocked from running software on your machine" can also appear.
This Windows 10 protection measure built in the User Account Control (UAC) system blocks running/installing applications with an expired or revoked digital signature (one can make sure by opening Digital Signatures tab in the executable properties).
If you are sure that the application is safe and was received from reliable sources, you can bypass this notification and run/install the application. There are some ways to bypass it:
Running the Application from the Command Prompt
You can try to bypass this blocking by running the command prompt with the administrator privileges and starting the application there:

Digital Signature Deleting
You can try to delete the digital signature of a setup file (for example, using a third party FileUnsigner utility).
Disabling UAC
As far as it is the UAC system that blocks running an application, it can be temporarily turned off.
Important. The UAC is an important computer protection subsystem, that is why UAC can only be turned off on a temporary basis. After the application is installed, go back to standard UAC settings.
UAC can be turned off using group policies. UAC policies are in GPO Windows Settings->Secutiry Settings -> Security Options section. The names of the UAC policies start from User Account Control.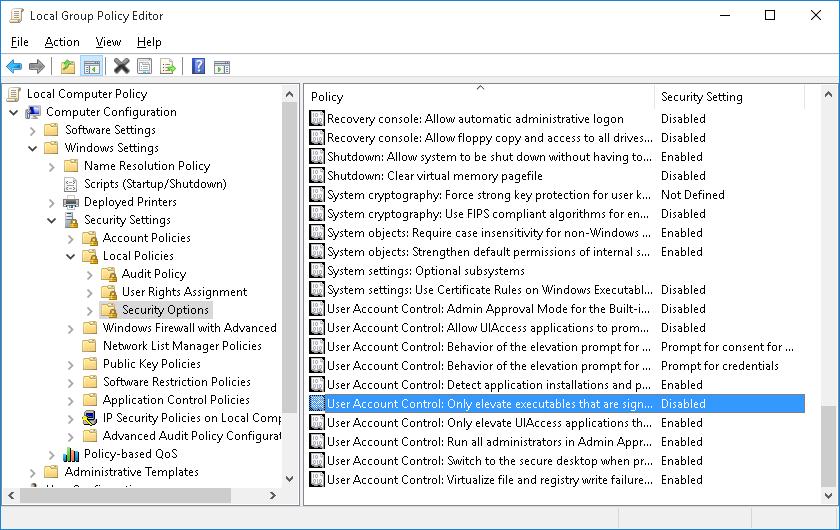 Note
. Group Policies Editor (gpedit.msc) is not available in Windows 10 Home editions. However, this restriction can be bypassed by using
a special patch
It is much more convenient and easier to turn off UAC  in the registry. To do it, go to HKEY_LOCAL_MACHINE\Software\Microsoft\Windows\CurrentVersion\Policies\System in the Registry Editor (regedit.exe) and change EnableLUA value to 0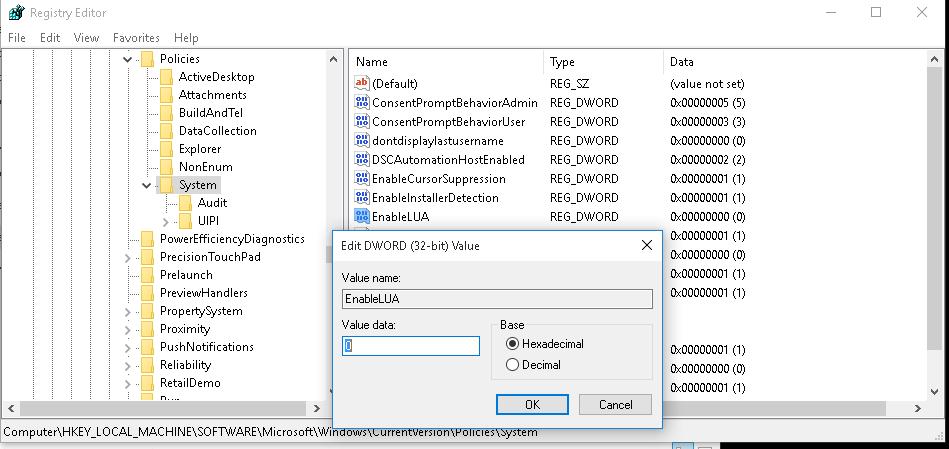 Or run this command:
reg.exe ADD HKLM\SOFTWARE\Microsoft\Windows\CurrentVersion\Policies\System /v EnableLUA /t REG_DWORD /d 0 /f
To turn UAC off, the system will require to restart the computer:
You must restart your computer to turn off User Account Control

Try to install the blocked application. In case of success, turn UAC on by setting EnableLUA value to 1.
Running an Application with the Built-in Administrator Account in Windows
If no of the previous solutions helped, you can try to run / install an application with the built-in administrator account. (The next article will describe how to enable Windows 10 built-in administrator account.)