In this article we will discuss how to create special UEFI USB flash boot drive (disk for the further Windows 8 or Windows Server 2012 installation on equipment in native UEFI mode).
Boot flash drive with Windows 8 which was created in a standard way can't be used for install the OS on a computer with UEFI. This flash drive is defined by OS however the boot from it will be impossible. The problem is that most utilities which create boot flash drives (including those created with a help of Windows 7 USB\DVD Download tool) format device in NTFS file system. UEFI systems do not support booting from the media with NTFS or exFat file system, such systems are loaded only from the media, formatted in FAT32.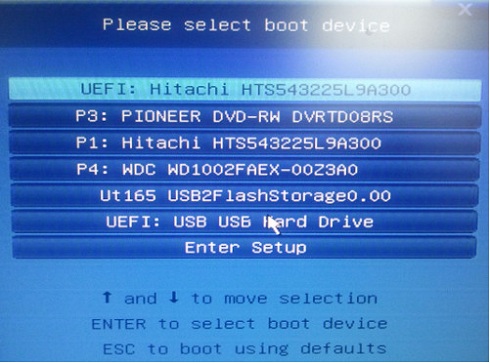 That`s why we need to create boot disk with FAT32 and copy Windows installation package on it.
What will we need for UEFI boot flash drive creation?
USB flash drive or disk which is no less than 4 Gb.
Windows 8 or Windows Server 2012 package on DVD or in ISO image.
The procedure is made with a help of diskpart utility on a computer with Windows 7/8/2008/2012
Insert flash drive in a free USB port (it`s better to disable all other USB storage devices to avoid confusion). Open command prompt with administrative privilege and perform the following commands:
Run partition management utility – Diskpart

diskpart

List the disks in system using command.

list disk

Select disk which corresponds to your flash drive (you can define it by disk size)

select disk 3

Check if you selected the right flash drive in the previous stage, because now we will delete all data from it.

clean

Create a primary partition

create partition primary

Select it

select partition 1

Make it active

active

Format flash drive in FAT32 file system (remember that in UEFI system boot is possible only from FAT32 not from NTFS)

format fs fat32 quick

Assign a  letter to the created disk

assign

Quite from DiskPart

exit
Then we need to copy Windows 8 x64 installation package files on a boot flash drive which we created. To do so we should mount disk with Windows 8 image (lets assumed that it is J: drive and letter signed for flash it is H:) lets copy its content to a flash drive with a help of xcopy command.
xcopy J:\* H:\ /s /e
Tip. If you create a bootable USB flash drive UEFI for 64-bit Windows Vista SP1, Windows 7 or Windows Server 2008 R2 flash drive you should create EFI directory on a flash drive and copy boot folder in it.
Now, using this media, you can install Windows 8 in UEFI mode. Don't forget to disable Secure Boot in system boot parameters (in UEFI – ex BIOS) before installation start. After completion of installation Windows Security boot can be enabled.