The easiest and the most intuitive way to create a bootable USB Flash Drive to install Windows Server 2016 on a physical server is to use Windows USB/DVD Download Tool. This tool allows to write the existing *.iso image of Windows to a USB drive or stick and make it bootable. However, it formats a drive to NTFS, which is only suitable to install Windows on BIOS systems and is not supported on systems with EFI. In this article we'll show how to create a bootable USB Flash Drive  with Windows Server 2016 image without any third party tools.
Depending on the UEFI / BIOS server architecture, you will use one of the following methods of creating an installation USB flash drive.
UEFI Bootable USB Flash Drive
If you use a USB flash drive to boot and install Windows Server 2016 on a EFI server, there are the following requirements to the USB flash drive:
Minimum size of the USB stick is 8 GB
Partition table type is GPT
File system type is FAT32
So plug your USB flash drive to your computer (in our example, it is a PC running Windows 10), start the command prompt with the administrator privileges and run DISKPART with the following commands:
list disk
Display the list of the disks. In my case, the USB flash drive has the number 1. Select it:
select disk 1
Clean up its contents:
clean
Transform the partition table to GPT:
convert gpt
Create a new partition (with the size under 16GB):
create partition primary
Format this partition to FAT32:
format fs=FAT32 quick
Assign a drive letter to the new partition:
assign letter=M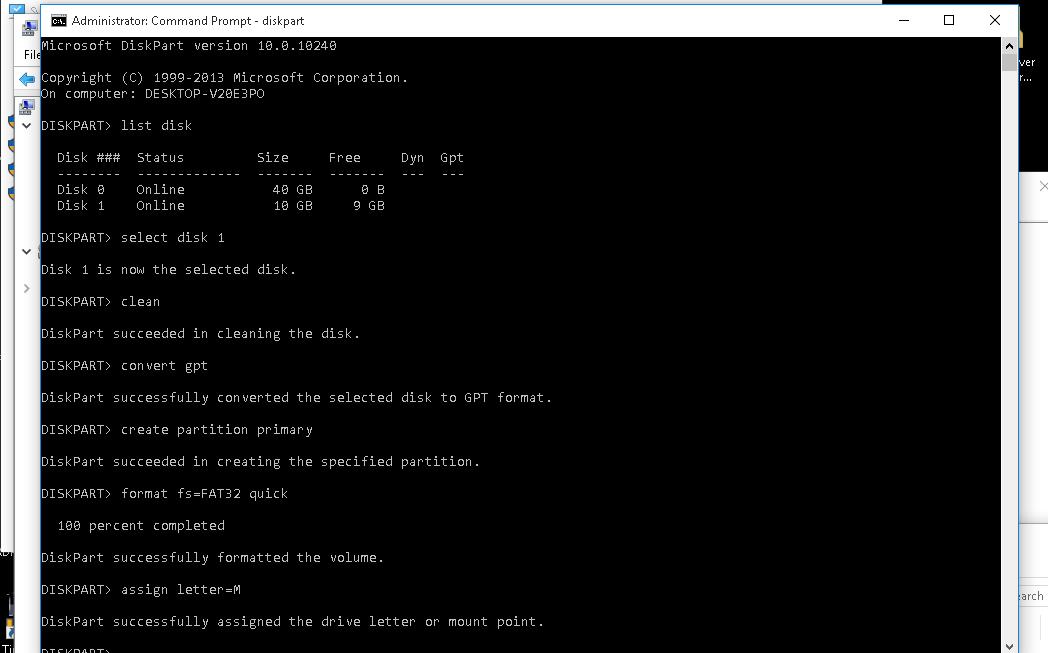 Exit the diskpart:
exit
Copy the distribution files from the mounted ISO image of Windows Server 2016 to the USB flash drive (suppose that the ISO image is mounted as drive E:\).
xcopy e:\* m:\ /H /F /E
Bootable USB Flash Drive with MBR Partition Table for BIOS and UEFI Architectures
You can create a Windows Server 2016 bootable USB flash drive with the MBR partition table for both BIOS and UEFI systems. There are the following requirements to the USB flash drive:
Minimum size of the USB flash drive is 8 GB
Partition table type is MBR
File system type is FAT32
Also, start a diskpart session and run these commands one by one:
The list of disks in the system:
list disk
Select your USB disk (in my example, it is Disk 1):
select disk 1
Clean it:
clean
Create a new partition. If the flash drive size is under 16 GB:
create partition primary
If it is over:
create partition primary size=16000
Format the flash drive to FAT32:
format fs=FAT32 quick
Make the partition active and assign it the drive letter M:
active
assign letter=M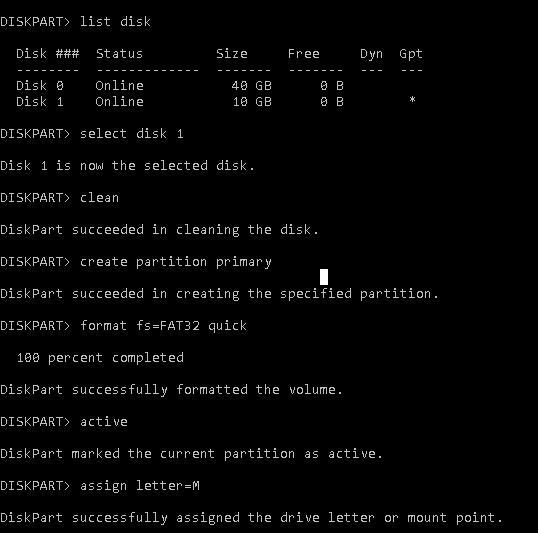 Exit diskpart by running exit command and copy the distribution files to the flash drive:
xcopy e:\* m:\ /H /F /E
The Size of Install.wim is Over 4 GB
If the size of Install.wim is over 4 GB, you won't be able to copy it to your flash drive since the maximum file size in the file system is limited to 4 GB. In this case, you will have to split the WIM file into several smaller files using DISM:
dism /Split-Image /ImageFile:e:\sources\install.wim /SWMFile:m:\sources\install.swm /FileSize:4096